Vicarage Upgrades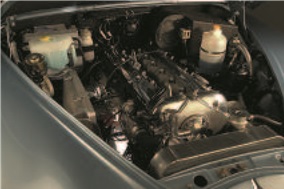 Here at Vicarage we offer an upgrade service for your classic car. Using the latest in tailored modern engineering we are able to add to-date enhancements, such as power steering, plastic parts & upgrades, windscreens, spring conversions and much more!
For a full list of upgrades we support, please click here to download our brochure. Should you have any further questions please don't hesitate to contact us either by telephone or by using the contact form.
Power Steering
Jaguar Mark II Steering, although fine in it's day, now with 40 years under it's belt, is at best vague and disappointing in comparison with modern sports saloons. Parts to service and repair the ageing original manual and power sterring boxes are now virtually impossible to locate, leaving the outlook bleak for Mark II owners.
Using new and imprioved components and construction techniques, Vicarage enginerrs have developed a comprehensive power rack and pinion kit containing all the parts you require to steer your Mark II or S-Type to the new millenium and beyond. Using many parts from Jaguar's XJ40 range, the new power steering kits offer the performance and reliability expected of modern luxury t ransport. The new Vicarage kits are available for the entire Mark II and S-Type ranges, including Daimler versions, regardless of whether or not the car was originally fitted with power steering.
Whilst upgrading your steering, why not improve your electrical system at teh same time, our standard kits retain the original dynamo, but we also produce special kits containig all the necessary hardware to allow the installation of an alternator, an essential in these days of alarms, electrical cooling fans and high output sound systems.
Plastic Parts & Upgrades
Plastic components suffer with the passage of time and are usually difficult or impossible to restore. Vicarage have the facility for the creation of many plastic parts that up until now have been unavailable. With the list of reproduced items rapidly increasing, we now carry a large stock of plastic items for the E-type, Mark II and XJ range of Jaguars. We are happy to quote on customer's own requirements for any plastic parts, for any make of vehicle.
The Fan switch housing, situated int he bottom hose of V12 Models, can suffer from external and internal corrosion and due to its exposed position, from impact damage, Vicarage have re-made this casting with the fan switch aperture modified to take a modern, more reliable screw fitting theromstatic switch.
Windscreen
Jaguar Mark II Windscreen seals, is a problem for the restorer. Original rubbers inevitably need renewing, if the original chrome finishing strips are missing or damaged, replacements are hard to find, very expensive and can be difficult to fit successfully.
The new Vicarage windscreen seal is a direct replacement, the two piece kit is simple to fit using standard tools and offers an enormous cost advantage over original replacement parts.
MKII Rear Suspension Conversion
Jaguars original lead spring arrangement leaves much to be desired in terms of comfort and handling, particularly as the various components wear. Our new rear coil spring conversion kit transforms ride quality at the rear by elminating unwanted lateral movement of the rear axle and offering more progressive springing.
This kit, with a proven track record of over ten years, together with out up-rated front anti-roll bar kit (available seperatly) offers a most dramatic enhancement to ride quality and cornering stability and with the adddition of up-rated dampers, an unbeatable package. The rear coil spring conversion kit comes complete with all the parts necessary to carry out the conversion, including alignment templates and full fitting instructions.