Full/Part Restoration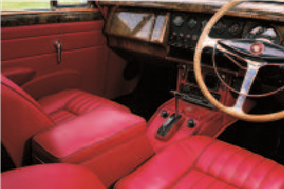 Full or partial restorations on the full range of Jaguar XK's, E types. The VICARAGE MkII is second to none, perfect.
How does a car that might be anything up to forty years old appear to be brand new? Because Vicarage goes right back to basics. Take the MK2. Old jaguar bodies are stripped to the bare metal before being shot-blasted. This ensures that the body is corrosion free, not just for now, but for years to come.
If the new metal has to be welded into the body shell it is impossible to spot the seams. Vicarage engineers and technicians work to very close tolerances to ensure the perfect fit of all panels. Sprayed with a coat of etch primer developed to keep rust at bay for well into the foreseeable future, each MK2 body is then treated with a stone chip undercoat and then, depending on colour, from seven to fourteen coats of primer, undercoats and laquer. It takes two working days to hand polish the painted body to Vicarage's satisfaction.
Meanwhile, every mechanical and electrical component is either restored, newly manufactured or else discarded in the favour of modern subsitutes, such as solid state electronics. Walnut finishes are sanded, treated and polished. Leather seats are completely refurbished, but you can also specify a modern Vanden Plas that offers firm yet luxurious support for your back. Using traditional hand-stiched Connolly leather, these new seats reporesent new and old technnologies, style and technqiues working in perfect harmony.
Once fully crafted to a level not available elsewhere, a Vicarage Jaguar is thoroughly tested, ready and waiting to transform its owner from commonplace driver to privileged motorist.
We take pride in our cars, which even in standard form offer a very high level of luxury. Hosts of further options are available to ensure that your car is built to your exact requirements. We do not build cars for stock, as each vehicle is prepared to the customers own specification. It takes between six and eight months from time of order to delivery. Only in this way can VICARAGE sustain the high standards of quality for which we are renowned.
Should you wish, we can build a car to exactly match Jaguars original vehicle as our Benson and Hedges, Champion of Champions V12 E type proves. However, the majority of our customers ask that their cars be upgraded to meet modern motoring needs incorporating lead free operation, air conditioning, alarms, central locking and superb in-car entertainment systems.
Naturally, the price of our cars will be dependent on the options fitted. Given your exact specification we can give you a firm quotation for a car that is unique to you. The price listed is for us to provide a donor vehicle. However, should you wish to supply your own Jaguar for restoration, then the price would be adjusted accordingly. Should any options not listed, be required, please tell us and our engineers will endeavour to accommodate your needs.